Games are one of my favorite gifts for the girls. Partly, because we have a real and actual organizational system for board games so it doesn't add to the clutter. Partly, because I love that the girls get along for a little while as they play together. I especially love educational games—it's such a joy to watch them have fun without even realizing they're learning.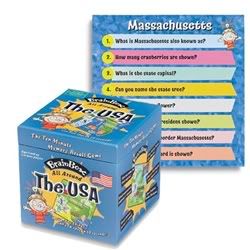 When the girls first started playing their new Brainbox game, they were in a feisty mood. It took a few minutes for them to settle into playing but I think this game will be around for awhile. The idea of the Brainbox is a kind of high speed memory game. Inside the box is a 10-second timer, a die and several game cards. We selected Brainbox USA so our cards consist of the states (and territories!). On one side, is a picture of the state, its capital, flower, tree, bird, flag and bordering states. There is also extra information like famous people from that state and popular sports. The other side of the card has 8 questions about the front of the card.
The object is to memorize as much about the state as you can, then answer a question (selected by a roll of the die). At first, the kids weren't getting anything. Ten seconds isn't very long and they were very frustrated. It was too fast paced for them to even get what was going on. I convinced them to loosen up on the timing rules until they got a feel for how to play. Eventually, they started pulling the same cards again and remembering a question they missed the first time around. Yes, it's rote memorization but eventually they remember what they saw and can tell you that Missouri is also known as The Show Me State. Stacia actually said in the middle of the game, "Hey, I'm learning!" Brenia decided the game was great "because when we are sick and can't go to school, we can still learn!"
I like that the game is compact, making it both easily portable for travel play and easy on the environment. The cards are super sturdy too, unlike other games we've owned. Brainbox games are for 1 or more players—perfect for our household with a wide variety of ages. They don't have to wait for a sibling to agree to play along! The USA Brainbox has a stated age of 8+, which is probably why it was a bit of a struggle for our 7-year-old to keep up with her older sister. However, she's obsessed with geography so I thought it would be a good first choice for our family. My First Brainbox is probably next on our list. With an age range of 3 and up, I think our 4-year-old would enjoy getting in on the action.


I also received a Hot Rocket in my shipment. It is too. Much. Fun. The package information says it can fling up to 100 feet. We've had limited fun with it in the house but haven't had the chance to fully test its powers. Seeing as it's stinking cold outside. If you order any one of the Brain Box games by 12/21, you can also receive a free Hot Rocket. Just enter coupon code ifreerocket when you checkout to get your freebie! Those of you in warmer environments will have to report back with the outdoor results. I'm dying to see a Hot Rocket soar across the yard. Almost enough to bundle up and give it a try.
---
This is a Mama Buzz review. The product was provided by Timberdoodle for this review, but the opinion is 100% real.