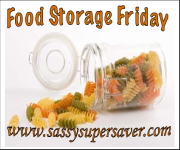 Have you wondered how long things store?  Have you wanted to get an organized storage of your food so you are ready if someone lost their job or if a natural disaster happened?  Join us on Food Storage Friday at The Sassy Saver!
This week we are talking about oils and fats.  We will discuss how long they store, how to know how much of what oils you need, and what the different oils are good for.  We have always stayed away from a lot of the different oils and fats.  But they are really important for baking and living on when you don't access to a lot of everyday meats and other fats you get.  It is important to plan for these times.
Food Storage Friday is a weekly post at The Sassy Saver.  If you would like to joins us weekly, come over and follow or subscribe to the blog. Thanks for joining us today!