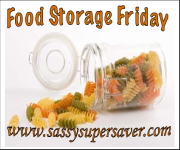 Have you wondered how long things store?  Have you wanted to get an organized storage of your food so you are ready if someone lost their job or if a natural disaster happened?  Come join us on Food Storage Friday at The Sassy Saver!
This week we are talking about Yeast.  Yeast is a very important thing and it is very important to know how to store it and how long it lasts.  If you do either of these incorrectly then your bread wont rise or will start to taste funny.  We will also be talking about how to use it when baking.
Food Storage Friday is a weekly post at The Sassy Saver.  If you would like to joins us weekly, come over and follow or subscribe to the blog. Thanks for joining us today!