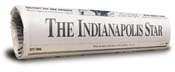 Don't forget to pick up a copy of the
Indianapolis Star
today! The back page of the 1st section is full of Kroger grocery coupons. You may use 1 coupon per transaction—$5 off $25 purchase, $10 off $50 purchase or $20 off $100 purchase. The coupon is good through Sunday, August 30th. Its minimum purchase value is before coupons so if you are using regular grocery coupons with the weekly sale ad, this can be a big savings! Be sure to check out our deal lists based on the Central Indiana weekly ad.
You'll be sure to catch all the great coupons in the Sunday and daily newspaper when you subscribe.
Discount subscriptions
are available to save your family even more.