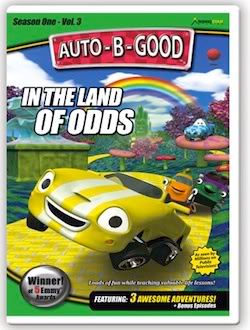 We received a copy of Auto-B-Good: In the Land of Odds
through Mama Buzz, and I was very excited to share it with Lorelai. I am constantly joking she's like the son we never had. This girl has been into trains, trucks and cars for most of her life, though she's getting into princesses & Barbies now too.
I don't know how I've never heard of this series before. It features a city of cars, with distinct personalities. The series reminds me of a cross between Veggie Tales & Cars. Each episode features a solid moral lesson, as we meet the citizens of Auto City.
I think my favorite character is Cali, although she tends to be the example of how not to be good. Cali is the Cher Horowitz
of Auto City. "I would, like, totally gag if I had a pine tree hanging from my review mirror!" She learns valuable lessons and solid character traits, such as responsibility, from her friends.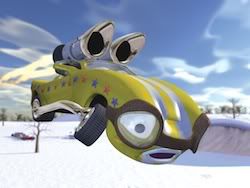 You can get to know the characters and play fun games with them on the Auto B Good website. You can also watch a free episode, if you want to check it out on You Tube. The DVD retails for around $7.99, and there are several volumes
available. I'm still trying to find out when and where it is on television in our area.
Someone has to air this Emmy award-winning show for my girl!
---
There are numerous products and tools designed to help you live your life. Some will work, while others won't. Each Tuesday, we'll share something we've tried so you won't have to spend money until you know it's worth it! Our selections usually include items that will also save your family money while others will save you time or just make your inexpensive life easier to manage. This is a Mama Buzz review. The product was provided by Rising Star Studios for the purposes of this review, but the opinion is 100% mine.