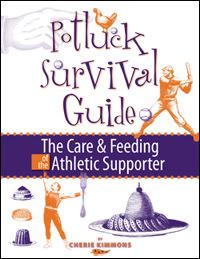 If you have ever stressed over what to fix for a potluck or waited until the last minute to cook a dish for a pitch-in, Cherie Kimmons has an answer for you. Her book, Potluck Survival Guide: Care & Feeding of the Athletic Supporter features tips, ideas and recipes for the perfect potluck—on a budget! She has some great suggestions on using a "bar" concept rather than a traditional entree & side dish spread. I know we love to serve tacos for large groups, but she expands on the idea with a potato bar, chili bar, sundae bar and even a waffle bar! These are a great way to stretch your budget when feeding a crowd.
Cherie's kid-friendly guide will help you choose items that even the pickiest eaters will love. She even includes suggestions for spicing up traditional favorites if you get to cook for a more grown up crowd. The recipes are uncomplicated, using simple, inexpensively ingredients you often already have on hand. If you can skip a trip to the store, your contribution to the potluck can be quick, easy and frugal! Intermingled with the recipes themselves, you get cooking suggestions, insider tips and anecdotes from the author's childhood and home life. I love a cookbook that provides more than just recipes—I can find those online! If I'm going to add an actual book to my collection, I need it to provide a little more purpose.
While I enjoyed the recipes, and Cherie's detailed commentary, I didn't really like the size of this book. It was a bit unwieldy for a cookbook. I like either spiral bound books that will lie flat while I cook or smaller books that I can open inside a gallon-size baggie to prevent damage in my often-messy kitchen. On the other hand, the pages are sturdy, making this book easy to wipe clean (just in case). Overall, I'd recommend this book to any frequent carry-in participants. You'll love finding ideas to liven up old favorites plus new recipes to wow your friends & family. The Potluck Survival Guide retails for $24.95, but you know I'd never leave you without a deal. When you purchase direct from the publisher, you can save 24% by using PayPal for your order.
---

There are numerous products and tools designed to help you live your life. Some will work, while others won't. Each Tuesday, we'll share something we've tried so you won't have to spend money until you know it's worth it! Our selections usually include items that will also save your family money while others will save you time or just make your inexpensive life easier to manage. This is a Mama Buzz review. The book was provided by Five Star Publications for this review, but the opinion is 100% real.