Frugal Blogger Breakfast at BlogHer

One of the best parts of the Inexpensively blog network is the opportunity to connect with frugal bloggers from across the globe.
We enjoyed meeting several members of Team Inexpensively & other frugal bloggers at Blissdom earlier this year, and we're looking forward to getting together in just a few weeks!
Amongst the chaos of BlogHer, enjoy a quiet breakfast to collaborate, learn and network with others, as we encourage growth across the niche.
Deal & frugal blogs are a rapidly growing niche, with their own set of needs & challenges. It is such a great experience to meet people who "get" you and share your experiences. Join Red Plum, Retail Me Not and Inexpensively for a morning of learning, sharing and growing your blog.
Event Details:
Who: Frugal, deal or personal finance bloggers who wish to network & grow their blogs
What: Breakfast & Round-table discussions hosted by Team Inexpensively & friends
When: Saturday, August 7th 7am
Where: Rue 57, corner of 57th & Avenue of the Americas
Hashtag: #BECbreakfast
The Button: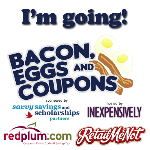 Registration:
*Please note by registering for this event, you are giving permission to release your information with our sponsors and hosts to create a tailored event for all guests.
Our Sponsors:
The RedPlum™ Network has become the fastest growing online coupon network, delivering hundreds of thousands of national and local deals to consumers from coast to coast each month with nearly 1,000 affiliate sites. At redplum.com, you will find one of the largest collections of printable coupons, coupon codes and tips to live the value lifestyle. RedPlum also delivers value each week to over 100 million shoppers in the mailbox, in the newspaper and in-store on the brands shoppers want most.
RetailMeNot.com is the most popular coupon website, with 485,000 coupons for 65,000 stores, restaurants and brands, including Victoria's Secret, Amazon, Best Buy, Macy's, Sears and Gap. Shoppers love RetailMeNot.com because they can share, vote on and recommend coupons, making it easy to find the most and best coupons on the web. Bloggers can create a customized coupon feed for their website in seconds by using RetailMeNot.com's blog widget.
Savvy Source is a comprehensive online guide for all things educational for parents of young children including preschools, camps, and classes. The site is also full of engaging reviews of books, toys, gear, and parenting articles from the country's leading experts. Best of all we offer fantastic savings opportunities for local family activities and a dynamic online parent community. At the heart of Savvy Source is the Savvy Savings and Scholarships program, which provides parents significant discounts on family-friendly activities, and donates a percentage of the sales to preschools and preschool scholarships. Savvy Savings and Scholarship Partners earn money for local preschools, preschool scholarships, and themselves by sharing the great savings opportunities with their readers.
Table Hosts:
Alicia, Making Time for Mommy
Ann, Coupons, Deals & More
Corrin, Broke as a Spoke
Kelly, Centsible Life
Melissa, Multitasking Mama
Renae, Madame Deals
Toni, Shopping Adventures of Cheapo McFrugalpants
Editor & Mom Saver-in-Chief, Red Plum